Versatile Diode Based Laser for Minimal Invasive Surgeries.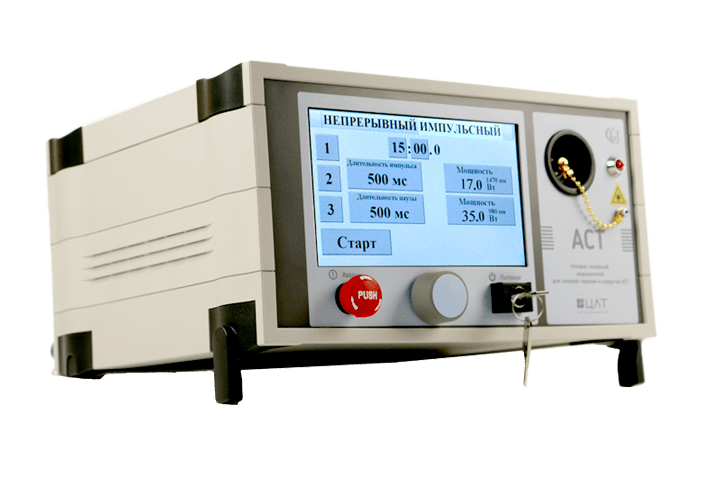 The device is built on the basis of a reliable and durable diode laser with a working life of more than 30,000 hours.
The Device can generate and deliver 2 wavelengths at 980nm & 1470 nm , which can be used simultaneously or independently.
ACT DUAL MINI

ACT DUAL

ACT DUAL BPH

Radiation wavelength, nm

980 + 1470

980 + 1470

980 + 1470

Maximum output radiation power,W

16 + 16

30 + 18

120 + 25

Adjustment of radiation power at a wavelenght of 980nm, W

0.1 to 16

0.1 to 30

0.1 to 120

Adjustment of radiation power at a wavelength of 1470nm,, W

0.1 to 16

0.1 to 18

0.1 to 25

Joint or separate work of two channels

YES

YES

YES

Summing the laser radiation of two channels into one fiber

YES

YES

YES

Pilot Laser

Red

Green

Green

The minimum diameter of the optical core of the light guide tool, microns

400

Type of light guide connector

SMA-905

Mode of operation

pulsed and continuous

Pulse / Pause Duration, Sec

0.05 - 1
The ACT DUAL laser medical device is recognized as an innovative standard designed to ensure the safety and effectiveness of exposure to biological tissues. Thanks to laser radiation of wavelengths of 980 and 1470 nm, a targeted effect on water and hemoglobin is carried out, which in turn ensures effective ablation and hemostasis.